How to Create an Inviting Bedroom Space
By Linsey Woods
Interior designer, linseywoods.home

Creating a home that's both cozy and welcoming from top to bottom is something I'm always striving for. But if there's one space that deserves to get some extra time and attention, it's most definitely the bedroom, in my book. Let's think about it – it's the very first space you'll wake up to in the morning, and the place you'll always retreat to after a long day. It's only fair that it delivers those warm and welcoming vibes you crave!
Of course, getting started on creating your dream bedroom retreat can feel a bit easier said than done. If you're in the market for a few tips to get you on the right track, I've outlined my top suggestions for creating an inviting bedroom space that you'll be falling in love with in no time. Grab a pen and enjoy!
Treat Yourself to Bedding You'll Swoon Over
Is there anything better than bedding that you just can't wait to dive right into? (I'll answer this one: Absolutely nothing better!) Not only does a great set of bedding help you catch up on some well-deserved zzz's, but it's the first ticket to creating a truly inviting space. After all, a bed is most always the anchor piece for any bedroom!
Personally, I love opting for white bedding that acts as a building-block for everything else in the space. Whether you prefer neutral or pops of color, starting off with a white palette allows you to mix and match accent pillows, rugs, and décor flawlessly.
One more fun tip: I'll always choose a duvet over a standard comforter. The fullness of a duvet gives an instant boost of added luxury to the room. This duvet cover set and duvet insert make for the perfect combination!
Though it's totally
common to think of big furniture pieces as having the most impact, it's the little details that are
the true showstoppers.
Add Instant Coziness with the Perfect Area Rug
I think it's pretty safe to say, area rugs are like pure magic – especially in a bedroom space! Whether you're using one to cozy up some cold flooring or tone down a shade of carpet you're not loving, there's no doubt they offer endless function. But an area rug also tends to serve as the last (and possibly best!) piece of the puzzle in many of my bedroom designs because it instantly pulls a room together, helping it feel both cozy and complete.
Need some guidance on the perfect rug for your space? Both vintage and boho options are right on trend at the moment, and you can't go wrong with either. Of course, if you're a fan of frequent décor switch-ups, I'd recommend keeping things simple and timeless so that you'll be able to hang onto it for years to come. Think something along the lines of this versatile and perfectly simplistic option!
Create a Wow-Factor by Mixing in Textures
IFrom accent pillows to wall décor, incorporating texture means you'll be adding in those textiles, materials and colors that all contribute to a swoon-worthy bedroom. Though it's totally common to think of big furniture pieces as having the most impact, it's the little details that are the true showstoppers.
Want a place to kick your feet up at the end of the day? Add a couple of cozy poufs at the foot of your bed. Hoping to add some visual interest to a big bare wall? A wall hanging could be the perfect way to express your creativity and add a sense of warmth to the room. The options are truly endless!
At the end of the day, a bedroom should feel like the perfect expression of your own unique style. Keep these tips on-hand, and I have no doubt you'll be well on your way to creating an inviting bedroom space that's just too good to leave!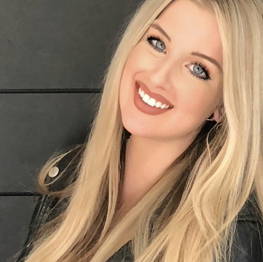 Interior designer, linseywoods.home
Linsey Woods offers virtual interior design services and shares her love for attainable home décor and DIY tips via Instagram at @linseywoods.home